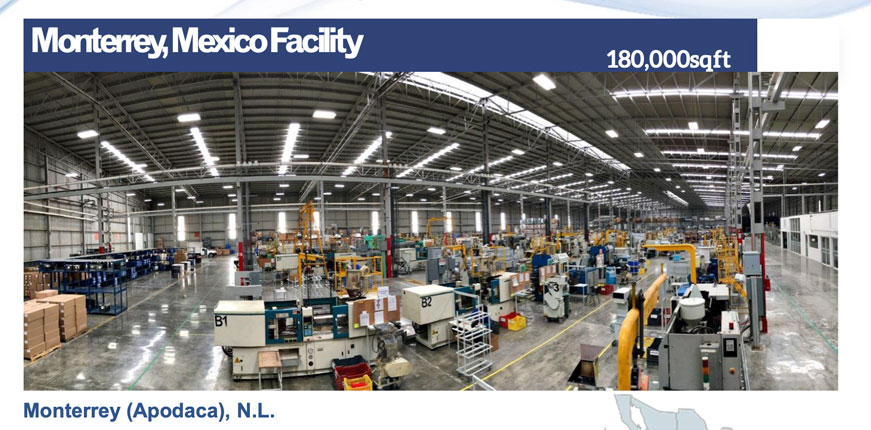 Commercial Plastics buys custom injection molding manufacturer in Monterrey, Mexico
posted by:

wpsupport
October 4, 2023
No Comments
We are pleased to inform you of some exciting news! Commercial Plastics has acquired the assets of Epkamex, S.A. de C.V., a custom injection molding manufacturer in Monterrey, Mexico. The name of our new location is Commercial Plastics Monterrey LLC.
Epkamex, S.A. de C.V. shares the same core values as Commercial Plastics and now bringing the two together only strengthens our ability to service our customers. We look forward to growing our capabilities and continuing to build upon the fantastic partnerships already in place.
Epkamex Highlights:
• 180,000sqft facility with a 45-foot ceiling height
30 molding machines with current plans for up to 3,000 ton machines

ISO 9001 certified, IATF 16949:2016 certified, IMMEX

Family owned with 75 employees
With the acquisition of the assets of Epkamex, S.A. de C.V., we will have five manufacturing sites located in Wisconsin, Nebraska, Illinois, Minnesota and now Monterrey, Mexico. We currently have 700 employees who service the following industries: Medical & Healthcare, Aerospace, Agriculture, Hygiene Products, Outdoor Recreational, Lighting, Commercial Furniture, Appliance, Automotive, Consumer Products, Electrical, Power Sports, HVAC, and Health & Fitness.
Commercial Plastics has always been committed to being your full-service custom molding partner. That means making a commitment to go beyond injection molding to work with our customers as partners to enhance their productivity and profitability.
If you would like to learn more about our company, we encourage you to check out our website at www.ecommercialplastics.com.